LTE Scientific present their space saving autoclaves, providing leading class volume to space ratios
In answer to the sterilisation needs of many customers requiring large capacity autoclaves in limited spaces, LTE Scientific have devised a new space efficient smart solution. Through clever redesign of their market leading Touchclave Lab Range, LTE can now offer a greater scope of solutions to businesses requiring varied volumes of sterilisation within confined spaces.
As a forward thinking Great British manufacturing company LTE take great pride in welcoming and overcoming any challenges posed by their clients. One of the major challenges their clients consistently face is lack of adequate space to install and operate an autoclave with enough capacity for their operational needs. In answer to this LTE have continually developed their steriliser range over the years to adapt to the requirements of the scientific, healthcare, pharmaceutical and agricultural industries, resulting in a diverse combination of sterilisation products.
LTE have four models within the Touchclave range, starting with the Touchclave R model which has a cylindrical chamber with in-chamber heating and capacities from 40 Litres up to 160 Litres, available in both top-loading and front-loading and designed to be compact for limited space, with the 40 Litre having the smallest footprint and being suitable for benchtop sterilising.
For medium to large capacity loads the Touchclave Lab range is available in 2 variants with 5 sizes from 150 Litres to 450 Litres. These square chambered autoclaves have the narrowest width despite the increased chamber size and come with a range of additional features to reduce load processing times. Options including vacuum to speed up air removal at the start of the cycle and heat dissipation during the cooling cycle, a water jacket which speeds up the cooling cycle and air ballast which allows for faster cooling of fluids whilst preventing breakages and volume loss.
Last but certainly not least, LTE Touchclave systems are designed for large capacities where heavy throughput is required. Sizes start at 435 Litres up to 1052 Litres as standard and are also available in sizes up to 10,000 Litres. These are ideal for high throughput facilities and can be supplied as multi-purpose or porous load variants.
A challenge recently faced by LTE was a request from a client requiring a 150 Litre autoclave with internal steam generator for a narrow room. The standard Touchclave Lab K matched the requirement with the exclusion of the depth which was too great at 1220mm. The team at LTE Scientific quickly acted on this and by restructuring their Touchclave Lab K, managed to overcome the space restrictions by reducing the depth to fit and thus created the new LTE Touchclave Lab Compact.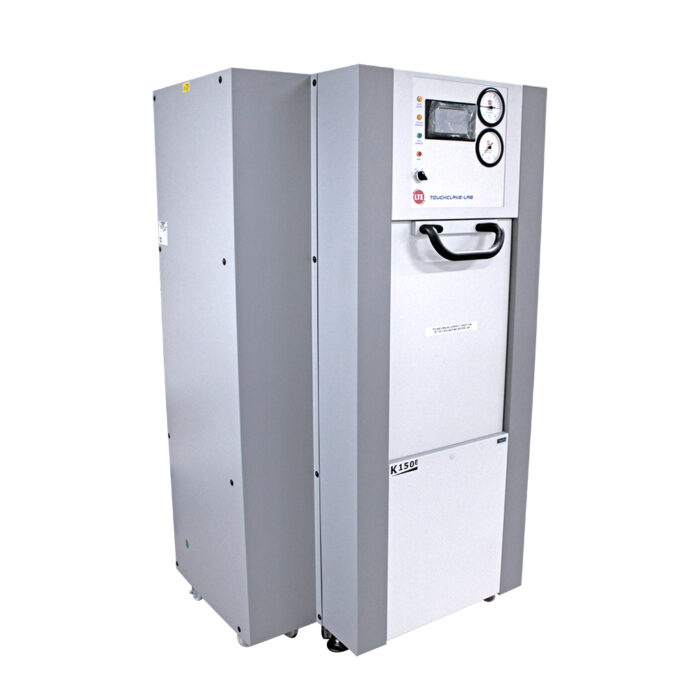 LTE are now thrilled to be incorporating the Touchclave Lab Compact into their range and believe this will provide an optimal solution for many companies currently struggling with space restrictions. With this introduction to an already extensive range, LTE can provide a complete sterilisation space saving solution regardless of space limitations.