From purchase through to service, at LTE Scientific we pride ourselves on providing an exceptional customer experience.
In line with that commitment we're delighted to unveil our newly upgraded website, an investment decision made, as always, with our customers front of mind.
A host of significant updates have boosted the site's speed and efficiency and enhanced the user experience through optimised navigation – making it quicker and slicker to pinpoint your search.
A brand-new product category page showcases our entire laboratory and medical equipment ranges.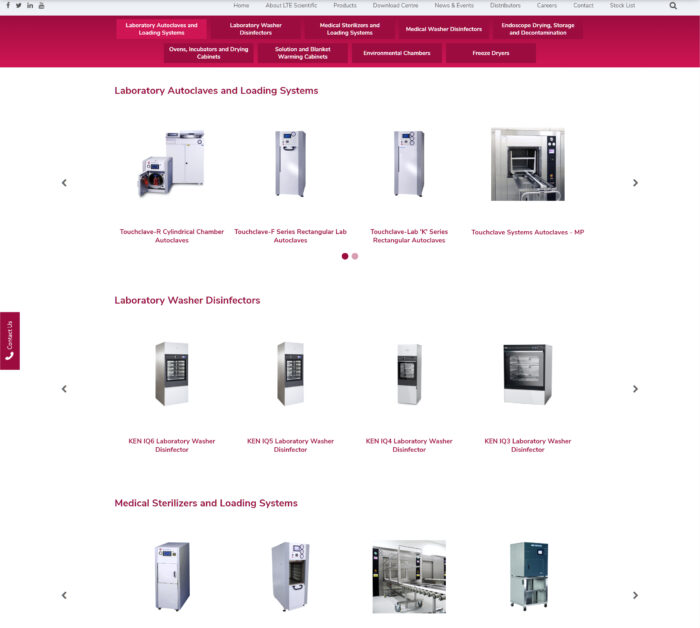 This rapidly streamlines the journey from the homepage to product location, whether your search is for scientific or medical purposes.
Our product pages have been redesigned to replicate the clean visual appeal seen throughout our website and improve navigation to smooth and assist the product selection process.
Alongside re-positioning product imagery and brochure and guide download links, we've added handy interactive tabs to highlight Key Features and Popular Options.
And we've simplified our getting in touch process by integrating a convenient 'Contact us' tab on the left-hand side of every page.
Our website upgrade echoes the recent developments seen throughout LTE this year including training and recruitment investment in our highly skilled workforce and ambitious growth plans across our manufacturing, supply and service operations.
And it's part of our commitment to continually expand and evolve the high-quality customer service we are renowned for.
John Lees, managing director at LTE Scientific, said: "The scientific and medical industries are both time-pressured and we strive to do all we can to make life easier for those working within them.
"The upgrade investment in our website was made to address those day-to-day practicalities and to enforce the high level of understanding we have of those sectors when it comes to the provision of our specialised equipment.
"At LTE we insist on exceptional efficiency and reliability across the board and a customer service which reflects our status as one of Europe's leading manufacturers and suppliers of laboratory and medical equipment."
Our cutting-edge equipment is globally recognised for its extreme efficiency and reliability.
We specialise in the manufacture, supply and service / testing of medical and laboratory equipment including autoclaves, medical sterilisers, endoscope drying/storage and decontamination solutions plus a wide range of laboratory thermal equipment.
We support UK and international clients across a range of industries including hospitals, pharmaceutical, biotech, research laboratories, universities, veterinary practice, agri-food, drink and automotive component sectors.
Throughout the Covid-19 pandemic we have maintained production to enable the uninterrupted supply of our essential equipment and service to healthcare providers and laboratories across the UK.
And we continue to invest in the development of new products to meet the demands of the rapidly evolving sectors we serve.