In answer to a growing demand to reduce carbon footprints, LTE Scientific, one of the UK's leading manufacturers of temperature controlled equipment for the life science sector, has developed a new range of sustainable eco-drying cabinets which will significantly reduce power usage (and therefore running costs) when compared to a standard glassware drying cabinet.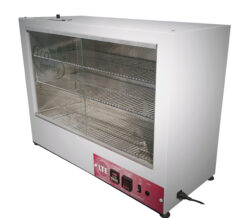 Complete with digital temperature controller and electronic 7-day timer, the eco-Drying Cabinet range is designed to offer market leading operational efficiencies over standard drying cabinets, yet remain economically priced.
In empty chamber tests, our DL100E used only 0.1kW to heat from ambient 22ºC to 60ºC, and then only 0.125kWh to maintain that temperature.
Key features:
Energy savings of at least 50% when compared to standard glassware drying cabinets
Insulated on 5 sides
Low heat output
Programmable 7-day timer
Anti-bacterial epoxy coating to exterior
2-year warranty as standard
TECHNICAL AND ORDERING INFORMATION:
| | | | | | | |
| --- | --- | --- | --- | --- | --- | --- |
| Cat No. | Cap (litres) | Air Circ. | Maximum degrees (Celsius) | Int Dims HWD (mm) | Ext Dims HWD (mm) | Shelves |
| DL100E | 100 | Nat. Con | 80 | 425 x 775 x 300 | 670 x 950 x 400 | 2/21 |
| DL180E | 180 | Nat. Con | 80 | 555 x 995 x 325 | 800 x 1175 x 425 | 2/35 |
TYPICAL ENERGY USAGE AT 75 DEGREES CELCIUS:
| | | | |
| --- | --- | --- | --- |
| Cat No. | Energy used in 1 hr (kWh) | Energy used in 8 hr (kWh) | Energy used in 24 hr (kWh) |
| DL100E | 0.188 | 1.50 | 4.50 |
| DL180E | 0.349 | 2.79 | 8.37 |
HEAT UP TIMES & ENERGY USAGE (DL100E)
| | | | |
| --- | --- | --- | --- |
| Set Temp. | Load | Energy Used (kWh) | Time taken / mins |
| 22 – 75C | No | 0.09 | 15 |