Swallow large capacity ovens offer precise control and are designed to meet the ever increasing demands of the modern laboratory and process facility.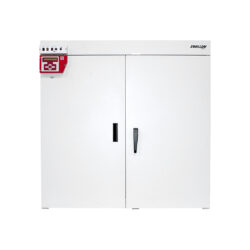 Using the latest in microprocessor technology these products are simple to operate and are controlled by means of a microprocessor system, offering precise temperature control, fast heat-up times and almost undetectable overshoot.
The process timers and delayed start timers are each programmable from 1 minute to 99 hours 59 minutes.
All models allow up to 3 time/temperature profiles to be programmed within one cycle.
An RS232 communication port can be added to transfer information to an intelligent receiver.
Swallow ovens meet fully with the requirements of IEC 1010-2-010 Class 2.
Specifications
Cat no.

Capacity

(Litres)

Internal dims HWD




(mm)

External dims HWD




(mm)

Fluctuation




(±%)

Spatial Variation




(empty) ±%*

Shelves / positions

Swallow 480 – LO/SWL/20/1
480
1000 x
720 x 670
1270 x


870 x

865

0.2
4.0
3/19
Swallow 750 – LO/SWL/42/1
750
1000 x
1120 x 670
1270 x
1270 x

865

0.2
5.0
3/19
Swallow 1000 – LO/SWL/50/1
1000
1270 x
870 x 865
1655 x
1270 x 1025
0.2
6.0
3/23