At LTE Scientific, our commitment to corporate social responsibility (CSR) goes beyond our professional services and products.
We believe that a successful business should also contribute positively to its community. One way we're doing this is by supporting the Oldham Foodbank through fundraising efforts and donations of much-needed goods. In this blog, we're excited to share our journey and efforts in making a difference in our local community, particularly through a spooktacular Halloween-themed bake sale.
Why Oldham Foodbank?
Oldham, like many communities, has experienced challenges, especially in recent times. Food insecurity is a growing issue, with many individuals and families struggling to put nutritious meals on their tables. The Oldham Foodbank has played a crucial role in alleviating this issue, providing essential food and support to those in need. It is a lifeline for many, and we knew we had to be a part of their mission.
A spooky bake sale for a worthy cause
Halloween was the perfect occasion to blend our CSR commitment with a dash of fun and creativity. We organized a Halloween-themed bake sale that encouraged our employees and their families to unleash their culinary talents and create delicious, spooky treats. From ghostly cupcakes to spider- cookies, the variety of treats was both impressive and delicious.
The bake sale was a huge success, in addition to an impressive £150 in funds raised the LTE team also donated a large amount of non-perishable food items, hygiene products, and baby supplies for the Oldham Foodbank fostering a sense of community among our team members.
The impact of our fundraising efforts
Our efforts will make a meaningful impact on the Oldham Foodbank and, by extension, the community it serves. These contributions provide tangible relief to those in need, ensuring that they have access to nutritious meals and vital supplies. Furthermore, we hope to serve as an inspiration for others to get involved and make a difference in their own ways, creating a stronger and more caring community in Oldham, where individuals and families can find hope, support, and the assurance that they are not alone in their time of need.
Our employees have expressed a sense of fulfilment and pride in being part of a company that prioritizes CSR. This commitment has not only strengthened our bond as a team but also instilled a sense of purpose that goes beyond our daily work.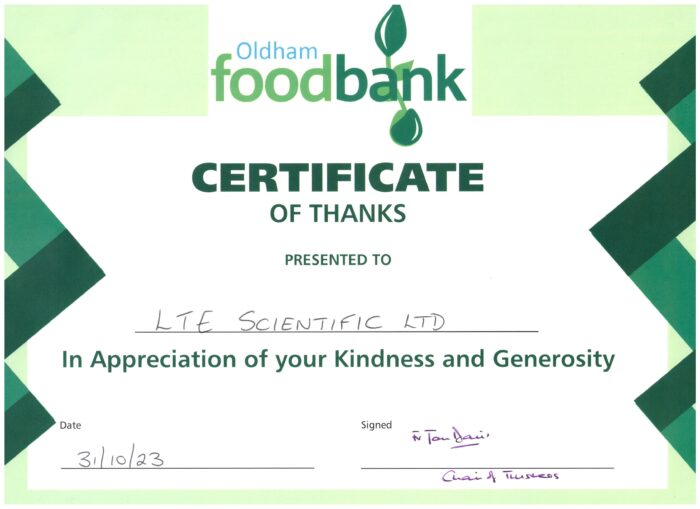 Get Involved!
We invite you to join us in supporting the Oldham Foodbank's critical mission to alleviate food insecurity in our community. Together, we can make a significant impact. If you'd like to contribute, volunteer, or learn more about the Oldham Foodbank's initiatives, please visit their website at https://oldham.foodbank.org.uk/. Your involvement can help ensure that no one in our community goes hungry, and together, we can build a stronger, more compassionate Oldham. Join us in making a difference today.